In this post,  I'll deliver all the meanings of the Moon as feelings that are used in love tarot readings.
At the end of the post, I will give the meaning of the card when answering the questions: "How does he feel about me?", "Does he love me?", etc. So you'll know how to read the Moon card in your love Tarot spreads. Scroll to the end of the post and you'll find out.
General Meaning of the Upright Moon in Tarot Card Reading
Look at the Moon card. Do you see the road on the map? Let's compare the previous Arcanum Star and the Moon. The Star means that we rely on our faith and higher powers, and the Moon has nothing to rely on. That's why you can only immerse yourself in the fullness of your worries, and fears and follow the road shown on the card in complete darkness. 
The towers are symbols of fears and ridiculous fantasies, and illusions. The dog and the wolf are our instincts because wolves instinctively howl at the moon. Also, our instincts can wake up and make themselves felt and it will not work to ignore them. Mary K. Greer in her blog gave a good explanation of what "between a dog and a wolf" means, read here https://marykgreer.com/2021/09/17/the-moon-card-between-a-dog-and-a-wolf/
Water is a symbol of emotions. Cancer getting out of the water is a symbol of our hidden desires, our deepest emotions that we usually hide. But if something happens that knocks us out of the usual rut, then these emotions come out. It can be our worries, fears, lack of clarity, because the Moon is a luminary that shines by reflected light, so means an illusion. And reflected light is always a lack of certainty.
That is why the Moon is first of all a card of illusions, a card of deception. The most basic meanings:
lack of clarity
illusions
deception
The Moon is one of the very slow and long-playing cards. A passive female card that has very powerful passive female energy. 
As for spreads for beginners, I recommend 1 card love spread. If you are interested to learn more and see the development of your relationship use 3 card spread. Keep in mind that your attitude is very important.
Take a look at the love meaning of the Fool, the Magician, the High Priestess, the Empress, the Emperor, the Hierophant, the Lovers, the Chariot, the Strength, the Hermit, the Wheel of Fortune, the Justice, the Hanged Man, the Death, the Temperance, the Devil, the Tower, the Star.
Upright Moon in Tarot Card Reading as Love and Feelings
What does the Tarot Moon represent? The Moon in love readings has both positive and negative sides. The surrounding cards or knowing the initial situation will help you to understand what side of the Moon should be read in your love spread.
The positive side of the Moon means romantic dreams, vivid imagination, and artistic fantasy. However, this card also has a dark side. This is fear, uncertainty, nightmares, and generally a warning to everything unknown and invisible.
The Moon may indicate a rival in your love relations. Only if you pull the Moon as an answer to a question about a rival. As I already wrote before, the Moon is a card of female energy, and the dark side of this energy is deceit and cunning. Therefore, the Moon can warn of situations that are based on deception and can be incredibly difficult and painful.
Moon in tarot reading Will I find my new love? 
Here I cover the meaning that is usually used for a one-card spread for singles with only one question.
The Moon as new love means that if you do not have a partner, then for now you should not indulge yourself with the illusion that you will meet the right person in the near future. Remember the Moon is a slow card.
At the same time, the Moon can be interpreted as you may meet a new partner, but he will throw dust in your eyes, and you will harbor illusions about him, i.e. you won't see his true face. Most likely, it will be a secret romance, that is, most likely a married or not single man.
Tarot Moon as feelings: Does he love me?  How does he feel about me? How much does he love me? 
The Moon as feelings should be interpreted considering its light and dark sides. 
In most cases the Moon as feelings and as an answer to "Does he love me?" means that his feelings are not clear. He may have feelings for you, but he is ruled by insecurity and fear. Therefore, these are not the feelings that lead to true happiness.
The Moon as feelings means that he feels about you some uncertainty. Perhaps he is jealous of you because he is not sure of him being the one in your life. Or he simply does not trust you and therefore has vague and confused feelings for you.
In case if the Moon should be interpreted with its light side in love card readings, as I wrote before, it means that he has very romantic feelings for you. It's like you just met and you're on your first date, or you're in the early stages of your relationship. He has many illusions and romantic dreams about you.
Tarot Moon: Will he confess his love? 
The Moon means that he is Unlikely to confess his love. Because he is not sure and lacks clarity. Either because he is not sure of reciprocity, or he is not sure of his feelings for you. 
The Moon can also warn you that if he confesses his love for you, then most likely it will be a deception.
Tarot Moon: Is he a good match / partner for me? Is he the one? 
You may think that he is the perfect partner for you. But the Moon warns that you are a prisoner of illusions. And what you think is actually not that. You are deceiving yourself. Beware of deceit and try to open your eyes.
Tarot Moon: Will he make a marriage proposal?
The Moon as a marriage tells no, he will not make a marriage proposal to you. Right now he is full of uncertainty. Now he lacks clarity and certainty. Perhaps he feels some kind of deceit or insincerity. It is likely that these are his far-fetched fears and self-deception. In any case, he is now in such a state and is not able to make any serious decisions.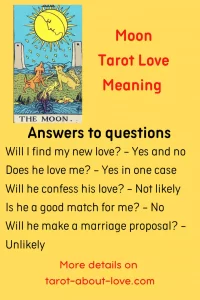 Upright Moon as Feelings for Ex
Tarot Moon: Does my Ex love me? How does my ex feel about me?
The Moon as feelings for EX means there is no certainty in his feelings. He is not sure himself what he feels for you. That may be because of his fear to be deceived, or betrayed. Especially if that happened in the past.
The Moon as feelings after the breakup means that he still didn't get a clear vision of what really happened and he can't believe that. But the way it happened made him understand that he is not sure of his feelings for you anymore. He is like trying to find the light in the dark tunnel.
If you haven't seen him for ages the Moon may indicate that there is another woman in a relationship with your ex. And it is the reason why your ex has vague and unclear feelings for you, as he is already in love with another woman.
Tarot Moon: Does he think of me? Does he miss me?
The Moon as thoughts tells you for sure that your he thinks of you because the water on the card means emotions. At the same time, Moon as Does he miss me means that his feelings are not that he misses or loves you. It's rather that he has some confusion and unclarity when he thinks of you. Maybe he remembers some deceit of yours. Or any other situation like that that left some unclarity. And he may feel worried about that.
Tarot Moon: Will my Ex come back?  
The Moon as a reconciliation cannot give an exact answer to the question of whether he will come back. Everything is in a fog and nothing is clear. I would suggest that most likely it means no, he will not come back.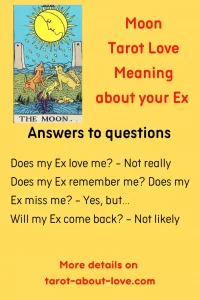 Upright Moon Meaning for Relationship Analysis. Moon as Outcome
Just like on a moonlit night, you wander through your relationship like in a twilight. The Moon as relationship analysis indicates that your union is characterized by ambiguity and uncertainty. You can't find a foothold in a relationship. From the outside, everything seems to be good, but inside there are some doubts. You want to believe that he is faithful to you and loves you, but something does not give you peace and complete confidence.
Your partner himself cannot figure out his feelings, and cannot understand whether he really loves you. He is confused and now does not really know what love is and whether he is generally able to love himself or someone else.
At present, his thoughts scatter; logic refuses him; clarity of mind is absent, which leads to mental imbalance. Sometimes, nevertheless, he tries to sort out his feelings, but each time to no avail. The more he tries, the deeper he goes into the wilds of obscurity. There is a feeling that even he himself cannot penetrate into his inner world and he still remains with his illusions. But don't despair. Maybe you can help figure it all out. Therefore, the Moon as an outcome of the relationship tells you that you will not be able to build a normal relationship if you do not follow the call of your desires.
If any of your questions are left unanswered – let me know and comment below. You may write a message on the contact form of this website.
Disclaimer. Some of the links in the articles may be affiliate links. If you purchase a product or a service using one of these links, I will receive a small commission from the seller. There will be no additional charges for you.
Disclaimer. All information is provided strictly for educational purposes. It doesn't take into account anybody's specific circumstances or situation. If you are making any decisions and require advice, please, consult a professional whom you trust.