Learn below the Strength love Tarot meaning. Also, find the interpretation of the Strength as feelings, as well as answers to all your questions concerning love and relationship issues in your readings.
The Strength card encourages you for patience, and the ability to control your 'internal lion' and demonstrate your strength of spirit. It is a positive card in the deck, that indicates that you can reach anything you want. The only thing you should do is to be patient and have spiritual strength while taking action.
If we talk about love and relationship the Strength means very harmonious relationships, that you are working at and trying to develop.
As for spreads for beginners, I recommend 1 card love spread. If you are interested to learn more and see the development of your relationship use 3 card spread. Keep in mind that your attitude is very important.
In my Tarot spreads, I use this Tarot deck, check it here.
You may also take a look at the love meaning of the Fool, the Magician, the High Priestess, the Empress, the Emperor, the Hierophant, the Lovers, the Chariot, the Strength, the Hermit, the Wheel of Fortune, the Justice, the Hanged Man, the Death, the Temperance, the Devil, the Tower, the Star, the Moon, the Sun.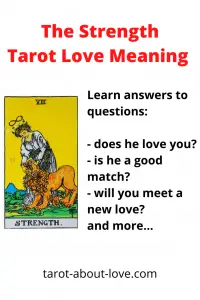 The Tarot Strength Love Meaning in Upright Position
Meaning of the Tarot Major Arcana Strength in spreads for singles.
Will I meet a new love? The Strength as new love doesn't uncover the aspect of meeting a new person in your life. You might meet and might not. This card predicts that you strongly control your emotions and internal desires. And this aspect could prevent you from starting a new relationship. Just because you won't let yourself plunge into the relationship and will choose your self-reliance over binding with someone whom you don't know well.
The Upright Strength as Feelings and other Love Meanings
Strength as feelings and as an answer to the questions How does he feel about me? Does he love me? means – Yes, be sure, he loves you. He feels true love for you as well as he is passionate about you. He might not demonstrate that, because he controls his desires and emotions. Nevertheless, it is a wonderful combination of feelings, so don't miss out on a chance to build a strong relationship.
Will he confess his love? Not likely. The matter is that he has feelings for you. But he is not the kind of person to show them. He keeps his desires and feelings under control. The Strength may encourage you to take action.
Is he a good match / partner for me / is he the one? He is a man with a strong spirit and clean moral principles. Also, this card shows a man who really can take care of his woman. He can keep every aspect of life in balance. And that all makes him a good match. Just be patient.
Will he make a marriage proposal? The Strength as marriage is not a marriage card. But it is a card that points to harmonious relationships. So if you want to get married, you should be patient and take action simultaneously.
The Strength as Feelings for Ex
Does my ex love me / remember me / miss me /will he come back?  The Strength as feelings for Ex means that he has feelings for you, he wants a kind of reciprocity and unity. At the same time, he controls his emotions and might not demonstrate that. Lots depend upon the situation you are in now.
The Upright Strength Meaning for Relationship Analysis
Meaning of the Tarot Major Arcana Strength for couples who are pretty long in the relationship. If you got Strength in your spread, this card tells us that you should demonstrate patience and wisdom in your relationship. In such a way you can get everything you want from your partner. The Strength as relationship analysis means that you love your partner, take care of him and you need him. And your partner responds to you with the same attitude to you. Even if you treat your partner as a baby, however, your relationship is full of harmony. And the Strength as outcome doesn't predict any dramatic changes. If the situation is comfortable for you, enjoy your life.
If any of your questions are left unanswered – let me know. You may write a message on the contact form of this website.
Disclaimer. Some of the links in the articles may be affiliate links. If you purchase a product or a service using one of these links, I will receive a small commission from the seller. There will be no additional charges for you.
Disclaimer. All information is provided strictly for educational purposes. It doesn't take into account anybody's specific circumstances or situation. If you are making any decisions and require advice, please, consult a professional whom you trust.