In this post, I will tell you my opinion of what the Ten of Wands means, in particular, the Ten of Wands as feelings. And I will also describe all the love meanings of this card in your love tarot readings.
The Ten of Wands as feelings means in general that his heart is full of oppression. Do you want to know why – keep reading.
You'll also get your personal free readings about "How does he feel about me?", "Does he love me?", etc. To see – scroll down the article.
As for spreads for beginners, I recommend 1 card love spread. Or you may try a very simple spread "Does he miss me" here. If you are interested to learn more and see the development of your relationship use 3 card spread. Keep in mind that your attitude is very important.
Take a look at the love meanings of the Major Arcana here.
General Meaning of the Upright 10 of Wands in Love and Relationships
Each suit progresses from Ace to Ten. Ten is a kind of culmination of the suit. Let's see what the fuse and impulse of the Ace of Wands eventually led to, and what result was achieved.
The card shows a man carrying 10 staves. And moreover, he carries them in such a way that he does not see the road ahead of him. He is so immersed in himself from the load of these staves that he does not see anything around him. It is this situation depicted on the card that demonstrates the manifestation of the negative side of the suit, namely a gloomy mood, showing that we expected too much, and now all our bright prospects have vanished like smoke. Most likely, we ourselves did a bad job somewhere and now we carry our burden to the end.
Even the very figure of the person on the card demonstrates that it is difficult, uncomfortable, and painful for him. This process doesn't bring him joy.
The Ten of Wands tells of oppression, very great tension, and maximum responsibility, a sense of duty.
The main message of the card is that the person got down to business and overestimated his strength. As a result, all the inspiration for the Ace of Wands disappeared, and a feeling of the weight of an unbearable burden set in. And now all that needs to be done is to try to spread out the wands and choose the most comfortable and effective way to carry these wands to the goal. But the person does not see it.
At the same time, the card has a positive meaning as well. The card indicates a person who knows how to bring the matter to the end. The fact is that wands are very easily ignited, this is the element of fire. According to the Ace of Wands, a person is very easily ignited by a new idea, it is very easy to captivate him and start some kind of business. But the Ace of Wands means that it is extremely rare that the job will be finished. At the same time, the Ten of Wands tells that the person is very responsible, so he just brings all things to their logical conclusion, no matter how hard and uncomfortable it is for him.
The Ten of Wands is also the completion of a business or process. With the last of his strength, but the person finishes this business or process.
So the general meaning of the Ten of Wands in card reading is:
oppression
responsibility, sense of duty
bringing things to a close
You may also take a look at the love meaning of Ace of Wands, Two of Wands, Three of Wands, Four of Wands, Five of Wands, Six of Wands, Seven of Wands, Eight of Wands, Nine of Wands, Ten of Wands
Upright Ten of Wands as Feelings in Love Tarot Card Reading
In my spreads, I use this Tarot deck, you may check it here.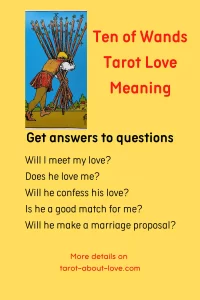 Tarot Ten of Wands as Will I find my new love?
The Ten of Wands as new love has divination as most likely no. In this case, either you or your prospective partner will be so busy with work and your own worries that there will simply be no time for new love.
At the moment, you yourself perceive the search for a new love as something that needs to be done, in order to fulfill a duty, perhaps under pressure from society, a circle of family or friends. You are burdened by the very thought of the process of finding a new partner. Maybe, it's not time yet.
In any case, the Ten of Wands says that you should not start a new relationship. It will be doomed from the start.
Tarot Ten of Wands as feelings. Ten of Wands as How he feels about me?
Feelings are not born out of duty or obligation. The Ten of Wands as feelings means that the inspiration has passed and dissatisfaction and oppression in the soul in relation to you have come. If you are asking How he feels about me the Ten of Wands will answer that feelings for you have cooled. The heart is tired of loving.
This could have happened either because of your disharmony in the relationship. Or because there is no possibility and prospects for the development of feelings due to certain aggravating circumstances and situations.
You can try to change something and maybe the feelings will also change. But you'll have to be patient.
Will he confess his love?
Ten of Wands as love confession means that he is now oppressed by everyday problems or thoughts. He can't solve everything. And he doesn't have the mood and the moral ability to confess his love to you, even if he has feelings for you. In any case, the card's prediction is no.
Is he a good match / partner for me? Is he the one?
If you are interested in the question of whether you are a good match for each other, then the Ten of Wands means no. Just like the man on the card, and you will feel the same next to your possible partner – oppressed, distant, tired, without a glimpse of a bright future.
The card says that the Partner can suppress you in a relationship. And you, because of duty, a sense of responsibility, etc., may not notice this for a long time.
Will he make a marriage proposal?
The Ten of Wands as marriage gives an ambiguous divination to this question. On the one hand, you can get a marriage proposal, because a Ten brings the matter to its logical conclusion. But the proposal will be done to you because of a sense of responsibility because it is expected of your partner. But this situation is very burdensome for him, he experiences stress about this.
On the other hand, you can get a proposal, but this "success" will not please you but will bring oppression.
Still, in most cases, the card will answer no.
Upright Ten of Wands as Feelings of Your Ex in Tarot Card Reading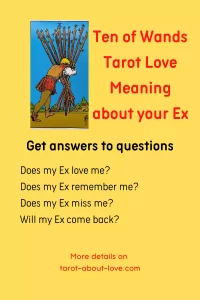 Tarot Ten of Wands: Does my Ex love me? How does my ex feel about me?
Slowly and very difficult, he is moving into his future. He does not dwell on the past and past feelings. Yes, it is still very difficult for him, it brings great discomfort. The Ten of Wands as feelings for EX means that feelings are getting colder and colder. If you broke up a long time ago, then most likely he does not feel love for you, but a feeling of oppression and depression.
Does my Ex remember me? Does he miss me?
The Ten of Wands as Does he miss me means that thoughts about you obviously haunt him. He thinks about you and is loaded with these thoughts and experiences. But his thoughts are not bright, they have no prospects and warmth. This is cooling and the inability to get rid of thoughts due to some circumstances binding you, perhaps a sense of duty. He is very oppressed by the memories of you, but he still does not see a way to get rid of it.
Will my Ex come back?
It's hard for him now, he's depressed and it's hard for him. But he will carry his burden to the end. And this path is forward, not backward. Therefore, the Ten of Wands as reconciliation most likely says that under the circumstances and the situation that exists now, he will not come back.
The only possible option when he can return is if you change something from the circumstances. But there is no idea how long it will take. And even worse – will you be happy about this long-awaited "success"? It is very likely that at that moment his come-back will bring you more oppression than joy.
Upright Ten of Wands Meaning for Relationship Analysis. Ten of Wands as Outcome after Break-Up.
The Ten of Wands as a relationship analysis means that it's hard to continue, but it's a pity to give up, just like these 10 wands that are depicted on the card. Most often, the Ten of Wands characterizes an inharmonious relationship, in which partners do not understand each other and can barely stand each other. They just tolerate each other and it's very, very hard for them to be together.
Like all Tens of the minor arcana, the Ten of Wands indicates the need to put an end to the current situation. In fact, it will only benefit you. This card says that the feeling has long begun to cool down, and there is no opportunity for development. Stress and other problems have led to overload and exhaustion in your relationship.
If you are married, the 10 of Wands hints that your relationship has already lost harmony. And you, under the weight of everyday problems and a sense of duty, continue to carry this burden and be together. And it doesn't give you any satisfaction. And this may have been going on for some time. I would advise you to try to look around, and look at life from a different angle.
There is nowhere to grow according to ten of each suit. Therefore, you need to move to a new suit, and very often in terms of relationships, this the Ten of Wands can mean that you need to change relationships, that is, re-arrange the wands and carry them to the goal in a convenient way. Or to break up if the first option fails.
If this is a characteristic or prospect of a relationship, the Ten of Wands as Outcome of relationships means that they will continue to be painful for partners. Partners are unlikely to break up because there is a sense of duty and some obligations.
Ten of Wands after breakup means that each of you is now immersed and is going through the entire burden of what happened. It doesn't make you or him happy. But the card does not promise that something positive will happen. You will continue to be loaded with feelings from your breakup.
Conclusion
Here I tried to summarize everything and give you very brief information in the table below.
| Ten of Wands as feelings and in Love Readings | Your reading |
| --- | --- |
| Will I find new love? | No |
| Does he love me? How he feels about me? | He feels oppressed |
| Will he confess his love? | Unlikely |
| Is he a good partner for me? | Not really |
| Will he make a marriage proposal? | Not really |
| Does my Ex love me? | His feelings are getting colder |
| Does he miss me? Does he remember me? | Yes, still… |
| Will he come back? | Not sure |
Disclaimer. Some of the links in the articles may be affiliate links. If you purchase a product or a service using one of these links, I will receive a small commission from the seller. There will be no additional charges for you.
Disclaimer. All information is provided strictly for educational purposes. It doesn't take into account anybody's specific circumstances or situation. If you are making any decisions and require advice, please, consult a professional whom you trust.