Many think that it is a card that doesn't bring you good. Because there is a dark background and a scene of destruction on it. Is that really so?
Here I cover all the meanings of Tower as feelings for ex or current partner that are used in love tarot readings.
At the end of the post, I will give the meaning of the card when answering the questions "How does he feel about me?", "Does he love me?", etc. So you'll know how to read Tower card in your love Tarot spreads. Scroll to the end of the post and you'll find out.
As for spreads for beginners, I recommend 1 card love spread. If you are interested to learn more and see the development of your relationship use 3 card spread. Keep in mind that your attitude is very important.
In my spreads I use this Tarot deck, you may check it here.
General Meaning of the Upright Tower in Tarot Card Reading
Following the Major Arcanum Devil, the Tower shows a situation where a person has not passed the test of temptation by the Devil. The picture on the card shows the destruction of the tower. And each person – whether it is a king or a simple poor person, can face it in life. 
So, the general meaning of the Tower is  
sudden collapse, 
loss of ground under your feet, 
losing everything – loss of property, work, painful and stormy break in relations
The Tower is the House of God. It is the higher powers that send us trials so that we shake ourselves up and reconsider our lives and begin to look at things differently.
The heaviest aspect of the Tower is its suddenness.  The Death is somehow similar in meaning to the Tower. But there is a difference – the Death means a quick natural end of something, and the Tower is even faster sudden collapse.
Are you frightened? Don't be) Sometimes the Tower has a soft meaning – a sudden move or a sharp change of plans due to circumstances. So it is better to consider the surrounding cards.
Take a look at the love meaning of the Fool, the Magician, the High Priestess, the Empress, the Emperor, the Hierophant, the Lovers, the Chariot, the Strength, the Hermit, the Wheel of Fortune, the Justice, the Hanged Man, the Death, the Temperance, the Devil.
Upright Tower in Tarot Card Reading about Love and Feelings
Tower in tarot card reading "Will I find my new love?"
Here I cover the meaning that is usually used for a one-card spread for singles with only one question.
The Tower as new love means that you won't meet your new love. And it's better not to even get to know anyone at this time. Because this is not the right period for making new acquaintances, because nothing will come of it. Even if you get to know each other, relationships are doomed to failure in advance.
Tarot Tower: Does he love me?  How does he feel about me? How much does he love me? 
The Tower means that unfortunately he doesn't love you. The Tower as feelings means that he is depressed due to a broken relationship. So he rather loves his ex-girlfriend. But to be honest, it's hard to call it love.
Even if he has feelings for you, the Tower as How does he feels about me warns you that it's not true and pure love. Because his feelings can destroy you or him. Everything he does is aimed at some kind of collapse that happens all of a sudden.
It could also mean that he has suddenly reconsidered his feelings for you. And not for the better.
Tarot Tower: Will he confess his love? 
Of course not. Even if he does, you must understand that nothing good will come of it.
It may also be that he suddenly confesses to something that will destroy your relationship.
Tarot Tower: Is he a good match / partner for me? Is he the one? 
No, he doesn't. He is a partner who can only destroy relationships, not build them.
Tarot Tower: Will he make a marriage proposal?
The Tower as a marriage means that he is not going to make a marriage proposal to you. At least we are talking about the proposal that will make you happy. Moreover, the Tower as a marriage means that something may suddenly ruin your marriage plans if you have any, or even relationships. But remember, the Tarot gives a prediction, not a sentence.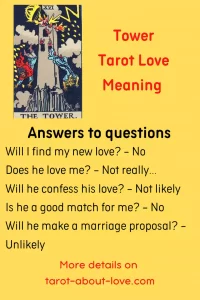 Upright Tower in Card Tarot Reading in Questions about Your Ex Feelings
Tarot Tower: Does my Ex love me? How does my ex feel about me?
The Tower as feelings for EX means that the person is depressed. Perhaps this is depression associated with a past love. It could be you or it could be another person. In any case, he is not in a position to share his feelings right now.
Tarot Tower: Does he think of me? Does he miss me?
Tower as Does he miss me means that for sure he thinks of you and misses you. Especially if your relationship was broken all of a sudden and with a conflict. Tower as thoughts means that he is depressed because your relationship is broken. But he is unable to take any action.
Tarot Tower: Will my Ex come back?  
Although he remembers you and is depressed because of your breakup, the Tower as reconciliation means that it is unlikely that he will come back. And you should be happy about it. Because if he returns, you won't be able to build anything new. This relationship will be destructive for you and for him.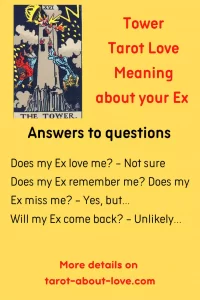 Upright Tower Meaning for Relationship Analysis and Outcome
First of all, I want you to draw attention to an important thing. Tarot gives a prediction, not a sentence. There is always a chance to reduce and minimize the consequences of the negative influence of the card. In our case, the Tower.
If we are talking about existing relationships, then the Tower as an outcome means a break-up in relations in the long term. This break-up will happen suddenly and abruptly. Unfortunately, the break-up will be painful. Most often it will be accompanied by a very serious conflict.
In any case, remember that everything is done for the best. Therefore, there is no need to be afraid and worry about this.
If any of your questions are left unanswered – let me know and comment below. You may write a message on the contact form of this website.
Disclaimer. Some of the links in the articles may be affiliate links. If you purchase a product or a service using one of these links, I will receive a small commission from the seller. There will be no additional charges for you.
Disclaimer. All information is provided strictly for educational purposes. It doesn't take into account anybody's specific circumstances or situation. If you are making any decisions and require advice, please, consult a professional whom you trust.